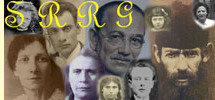 BORSZCZÓW
Borshchiv, Ukraine

Borszczów is included in the Suchostaw Region Research Group (SRRG). Shtetlach were interwoven together like a tapestry and the Jewish people of neighboring shtetlach linked by marriages, trade and marketing. They shared schools, cemeteries, kosher butchers, bakers and more. Smaller shtetlach registered their birth, marriages and death in a nearby larger shtetl. One should research the neighboring area as well as an individual shtetl. The SRRG web site has resources and information that is relevant to many shtetlach. To search for family links and learn more about neighboring shtetlach, please visit the Suchostaw Region Research Group (SRRG).
---
Variant shtetl names: Berchev, Bershchev, Borshchëv, Borschev, Borschiv, Borschow, Borshchuv, Borshov, Borshtchev, Borszczow, Borszow, Proszowa
SRRG Coordinator:
Susana Leistner Bloch
Administrative District: Borszczów
Judicial / Tax District (Subdistrict): Borszczów
Location:
Latitude-Longitude: 48°48´ - 26°03´
Altitude: 938 feet
24.5 miles SSE of Suchostaw
55.9 miles SSE of Tarnopol
Jewish Population before the Holocaust: 1,656

History and Geography:
Pinkas Hakehillot entry for Borszczów. Translated and Submitted to the Yizkor Book Project by Lancy Spalter for SRRG.
In present day Ukraine, Borschiv is in the Ternopilska Oblast (Region / Province). Borschiv is the seat of the Borshchivskyi Raion (County/ District)
Borczów Yizkor Book (Tel-Aviv 1960) - The entire Borczów Yizkor Book was scanned and all the pages can be viewed in the original format. With Permission of The New York Public Library, Dorot Jewish Division.
Resources:
1929 business directory (coming soon)
The People of Borszczów:
After emigration:

Borszczów Landsmanshaft (Including a list of burial society plots in the New York metropolitan area) . The Erste Borszczower Kranken Untershtitsung Verein [The First Borchover Sick Benefit Society] was founded in 1897. The aim of the society was to support sick and needy members and establish 'brotherly friendship and behavior amongst its members'. Landsmanshaftn, including the Erste Borszczower Kranken Unt. Verein provided social and economic services and support for their members. In 1989, the Jewish Genealogical Society, Inc. (New York) began an effort to identify the names and cemetery locations of all Jewish burial society plots in the New York metropolitan area. These include plots of landsmanshaftn, synagogues, family circles, fraternal organizations and labor unions. The following Borszczów Landsmanshaft plots are listed:

Erste Borszczower Kranken Unt. Verein - Mt. Zion - Path 15 Left, Gate 5
Erste Borszczower Kranken Unt. Verein - Beth El (Westwood) - Block 13
Erste Borszczower Kranken Unt. Verein - Beth David (Elmont) - Section AA, Block 3

Parnassa [Livelihood] - Making a Living:

Institutions, Organizations and Places of Learning:
BORSZCZÓW ADMINISTRATIVE DISTRICT (AD):
Borszczów was the seat of the Borszczów Administrative District (AD).

The Borszczów AD included the following Judicial / Tax Districts (JD):

Changes in ADs and JDs occurred during different periods of time. ADs and JDs were designated by the Austrian Government in 1877 for the purpose of collecting Jewish birth, marriage and death records. By 1906 and until 1914. (the end of Austrian rule) new ADs and JD's were added and / or changed. A further change occurred during the interwar years (1918 -1939). This is reflected here and on the shtetl pages included in the Suchostaw Region Research Group. You will notice that, at times, more than one AD or JD is listed for a shtetl with the note: 'depending on the time period'.

Information about Administrative Districts can be found on our website. It is important for the Genealogist / Family Historian researching towns in what was formerly Galicia to understand the differences due to time periods and other factors that resulted in the changes in Administrative Districts.

The following shtetlach belonged to the Borszczów Administrative District:

Bilcze, Cygany, Jezierzany, Korolówka, Łanowce, Łosiacz, Mielnica, Okopy, Skała, Wołkowce ad Borszczów
Links and Databases:
When searching the links below, please remember that many towns in Ukraine have the same name. Make sure that the information you find refers to the shtetl you are researching.
---
This page is hosted at no cost to the public by JewishGen, Inc., a non-profit corporation. If you feel there is a benefit to you in accessing this site, your JewishGen-erosity is appreciated.
© Copyright 2011 Suchostaw Region Research Group. All rights reserved.
Compiled by Susana Leistner Bloch and Edward Rosenbaum.
Back to SRRG Home Page | Jewish Gen Home Page | KehilaLinks Directory | Gesher Galicia | JewishGen Online Worldwide Burial Registry (JOWBR) | Jewish Records Indexing - Poland
Last updated 06/30/11 by ELR
Copyright © 2011 SRRG