Alternate names: Rossasna [Rus], Rasasna [Bel], Rososne [Yid], Rososna [Pol], Rosasno, Rosasna
DESCRIPTION:

Rossasna was a very tiny shtetl in the Vitebsk district. The Dnieper river and one of its tributaries, the Rossassenka, flows near or through the town. The section of the Dnieper river between Dubrovno and Rossasna used to be known as a fisherman's paradise, but today that is questionable due to polluted runoff from local farms.
HISTORY:

1795-1860: part of Kopys district, Mogilev province
1861-1922: part of Gorki district, Mogilev province
1923 on: part of Dubrovno district, Vitebsk province
In August 1813, it was along the path of Napoleon's army as he advanced towards Russian forces located in Smolensk. According to the 1897 Russian census, the total population was 1060, of whom 327 were Jews. In the 1920s, 28 Jewish families lived there. During WWII, the Germans captured the town in July 1941. There is a mass grave just outside of Rossasna, where almost 200 local Jews were killed. The few remaining Jews were taken to the nearby town of Lyady on 2 Apr 1942, where they were murdered along with the local Jews.
MISCELLANEOUS RECORDS FROM JEWISHGEN:
Jewish Religious Personnel in the Russian Empire 1853-1854 lists Movsha BESKIN, Izrael GUREVICH and Abram GUREVICH.
The JewishGen Belarus Deaths database lists one entry for Movsha Aron BIELKIN, son of Esel, died 16 May 1893, age 55, of consumption.
OTHER RECORDS:
The
Yad VaShem Database
has 147 entries for the town of Rossasna. Surnames include: ARONOV, BELKIN, DUBROVSKY, GABAY, GORBOCHEV, KISEL, KISELIER, MAGANET/MOGANET, MENDELEV/MENDILEV, MOZES, MUDRYKAMER, POLINA, RYVKIN, SHALYUTIN, SIRKIN, SMOTKIN, SOKOLINSKI, SYRKIN, and VAISMAN.
The USVYATSKY family (family of the webmaster):
Ya'acov (Yankel) USVYATSKY was a near-mythic figure to me when I was a child. He was my grandfather's grandfather, and everything I knew about him came from my grandfather's tale of the sole time they met, when Ya'acov went to Odessa on his honeymoon with his 3rd wife. My grandfather described Ya'acov as an elderly man (he was probably close to 85 at the time), who had married a "much younger" woman (she was probably around 65), but who walked "as straight as a 40 year old", with red hair (a family trait), and a red face and neck. My grandfather described him as wearing a black robe and a twisted rope belt, so I surmised Ya'acov was either Orthodox or Chassidic.
Recently I was able to commission research in Belarus. It was successful beyond my wildest dreams, and a summary follows.
Yankel USVYATSKY was probably born in the shtetl of Usvyat in 1817, son of Chaim Dovid USVYATSKY. Yankel married first Feyga RAITZYN (b. 1816). The 1845 list of Jewish families living in villages of Kopys uezd show Yankel and Feyga living in the town of Bobrovo with their children in the home of Feyga's parents Shimon (b. 1793) and Ita Riva (b. 1794). Shimon owned a house, and was a cattle dealer. Yankel and Feyga's children were Beylya (b. 1836), Itzko Iser (b. 1839), Leyba (b. 1841), and Meriyam (b. 1844). By 1852, Yankel, a petty bourgeouis, was living in Rosasna with his family and an additional daughter Reizel (b. 1846). By 1858, Yankel was living with his second wife Bashe (b. 1828) and their children Riklya (b. 1851), Peysakh-Dovid (b. 1853), and Feyga (b. 1856). It is presumed that Yankel's first wife was deceased, as his youngest daughter appears to be named for her. In 1865, Yankel was listed as renting a Korchma (inn) from the landowner Philip ARTISHEVSKY.
On 17 May 1868, three Chrisitian residents of Rosasna submitted a complaint to the office of the Mogilev governor stating that Yankel USVYATSKY sold diluted vodka and expired groceries from his korchma. The Chief of Police of Gorki investigated the complaint, interviewing the three complainants as well as Yankel and two other residents of Rosasna. Based on the results of the investigation, it was concluded that the purpose of the complaint was to strip Yankel of his business license and not pay a debt accumulated over 6 months for the purchase of vodka and groceries. Each complainant was fined 1 rouble for lying.
In 1869, Yankel was able to purchase the korchma he had been renting for the prior 14 years, and in 1872, he applied for and received permission for the korchma, located on Dubrovinsky St., to also function as a post office. By 1874, Yankel was residing in a house on Orshanskaya Street. His son, Leyba, resided nearby on the same street with his wife and children in the home of his father in law Itzka SHUSTER.
Yankel received a license to sell vodka in 1875 at auction. The other 3 people who received licenses were also Jews.
A fire broke out in Rosasna in 1877, damaging Yankel's home, which was not insured. The damage was estimated at 25 roubles.
In 1881 and 1884, Yankel and his sons Chaim, Leyba, Peysakh-Dovid and Shmuilo were all listed on the Gorky draft list. Chaim, who was living in Dubrovno, had grounds to be discharged from military service. Chaim and Shmuilo were described as illiterate. Apparently Shmuilo appealed the draft, as it was ruled that he didn't have grounds for postponing military service, and he was drafted on 7 Sep 1884.
Yankel, Leyba and Peysakh-Dovid were listed as members of the synagogue in Rosasna who participated in the election of the synagogue's Board members in 1885. Also in 1885, Yankel's house was described on a property tax list. It was a wooden house with a shingled roof and a wooden shed with an estimated value of 80 roubles. Yankel paid annual property taxes of 1 rouble and the house was insured for 120 roubles. Leyba owned a similar house, valued at 60 roubles and paid 85 kopecks property tax. Leyba's home was not insured. Yankel's korchma was located on Dubrovinskaya Street, was a wooden house with a shingled roof, two wooden sheds and one brick barn, valued at 100 roubles and insured for 150 roubles. The annual property tax was 1 rouble.
Yankel and his third wife Ginda Leya left Rosasna in 1903, according to the register of outgoing documents. Both were listed as staying current on taxes, with no criminal history. It would have been at this time that they traveled to Odessa to visit the three daughters of him and his second wife living there, including my great-grandmother Beila, her husband and their son, my grandpa Ben, who was about 8 years old at the time. It is unknown where Yankel and Ginda Leya went after their visit to Odessa.
In 1906, Leyba's son Benyamin (b. 1873) also left Rosasna, according to the register of outgoing documents, for an unknown destination. Leyba's older son Chaim (b. 1865) owned a grocery and tobacco store, located in his home, as of 1911, and the license was renewed until 5 Jan 1913. The fee for the license renewal was 1 rouble, 50 kopecks.
The last records I have of the family date from the WWI era, in July and September of 1915. In July, the supplemental draft listed the sons of Peysakh-Dovid: Movsha (age 19), Kalman (age 35, married), Elya (age 33, living in Dubrovno) and Borukh-Itzko (age 28, married). In September, Simcha (age 22), the son of Chaim, was listed as missing near the town of Smorgon. It is presumed that he died at this time.
I was told by my researcher that there was the possibility for additional research. Hopefully this will be realized in the not-too-distant future!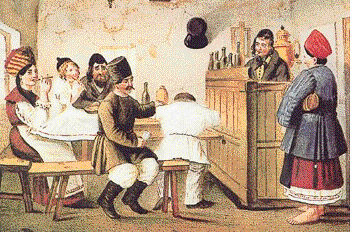 Jewish tavern scene in the Pale, lithograph, ca. 1840. Many Jews traditionally earned
a living by innkeeping, despite government efforts to move Jews out of this occupation.

The KUZNETSOFF and LAPATUCHIN families:
Please contact Terri FRIEDMAN (missterri41 at yahoo dot com) if you have any information about anyone with these surnames. They were her grandparents, and were from Rossasna and Lyady.
SOURCES
Encyclopedia of Jewish Life Before and During the Holocaust edited by Shmuel Spector, Geoffrey Wigoder
Napoleon: A History of the Art of War: From the Beginning of the Peninsular War to the End of the Russian

Campaign with a Detailed Account of the Napoleonic Wars by Theodore Ayrault Dodge in 4 volumes, 1907
JewishGen Databases
Katya Makarevich
Compiled by Judy Petersen

Last updated by JP February 2016

copyright © February 2016 Judy Petersen

Email:

Judy Petersen

or

Terri Friedman