THE USVYATSKY FAMILY
Ya'acov (Yankel) USVYATSKY was a near-mythic figure to me when I was a child. He was my grandfather's grandfather, and everything I knew about him came from my grandfather's tale of the sole time they met, when Ya'acov went to Odessa on his honeymoon with his 3rd wife. My grandfather described Ya'acov as an elderly man (he was probably close to 85 at the time), who had married a "much younger" woman (she was probably around 65), but who walked "as straight as a 40 year old", with red hair (a family trait), and a red face and neck. My grandfather described him as wearing a black robe and a twisted rope belt, so I surmised Ya'acov was either Orthodox or Chassidic.
Recently I was able to commission research in Belarus. It was successful beyond my wildest dreams, and here is their story:
Yankel USVYATSKY was probably born in the shtetl of Usvyat in 1817, son of Chaim Dovid USVYATSKY. Yankel married first Feyga RAITZYN (b. 1816). The 1845 list of Jewish families living in villages of Kopys Uezd show Yankel and Feyga living in the town of Bobrovo with their children in the home of Feyga's parents Shimon (b. 1793) and Ita Riva (b. 1794). Shimon owned a house, and was a cattle dealer. Yankel and Feyga's children were Beylya (b. 1836), Itzko Iser (b. 1839), Leyba (b. 1841), and Meriyam (b. 1844). By 1852, Yankel, a petty bourgeouis, was living in Rossasna with his family and an additional daughter Reizel (b. 1846). By 1858, Yankel was living with his second wife Bashe (b. 1828) and their children Riklya (b. 1851), Peysakh-Dovid (b. 1853), and Feyga (b. 1856). It is presumed that Yankel's first wife was deceased, as his youngest daughter appears to be named for her.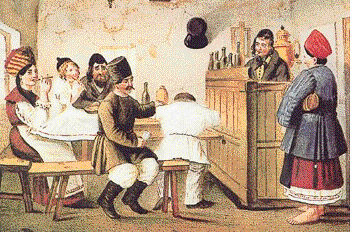 In 1865, Yankel was listed as renting a korchma (inn) from the landowner Philip ARTISHEVSKY. Yankel's customers were likely mostly Christians and sometimes there were problems.  On 17 May 1868, three Christian residents of Rossasna submitted a complaint to the office of the Mogilev governor stating that Yankel USVYATSKY sold diluted vodka and expired groceries from his korchma. The Chief of Police of Gorki investigated the complaint, interviewing the three complainants as well as Yankel and two other residents of Rossasna. Based on the results of the investigation, it was concluded that the purpose of the complaint was to strip Yankel of his business license and not to have to pay a debt accumulated over the previous six months for the purchase of vodka and groceries. Each complainant was fined one rouble for lying and Yankel kept his license.
In 1869, Yankel was able to purchase the korchma he had been renting for the prior 14 years, and in 1872, he applied for and received permission for the korchma, located on Dubrovinsky Street, to also function as a post office. By this time, he and Bashe also had two additional children, Chaim and Shmuilo. By 1874, Yankel was residing in a house on Orshanskaya Street. His son, Leyba, resided nearby on the same street with his wife and children in the home of his father in law Itzka SHUSTER.
Yankel renewed his license to sell vodka in 1875 at auction. The other three people who received licenses were also Jews.
A fire broke out in Rossasna in 1877, damaging many homes, including Yankel's, which was not insured. The damage was estimated at 25 roubles.
In 1881 and 1884, Yankel and his sons Chaim, Leyba, Peysakh-Dovid and Shmuilo were all listed on the Gorky draft list. Military service was mandatory in Belarus, for a term of 3 years.  Peysakh-Dovid was already married and had children, so he didn't have to serve.  Chaim apparently had grounds to be discharged from service, but Shmuilo was drafted.  Chaim and Shmuilo were described as illiterate. Apparently Shmuilo appealed the draft, as it was ruled that he didn't have grounds for postponing military service, and he was drafted on 7 Sep 1884.
Yankel, Leyba and Peysakh-Dovid were listed as members of the synagogue in Rossasna who participated in the election of the synagogue's Board members in 1885. Also in 1885, Yankel's house was described on a property tax list. It was a wooden house with a shingled roof and a wooden shed with an estimated value of 80 roubles. Yankel paid annual property taxes of one rouble and the house was insured for 120 roubles. Yankel's korchma was located on Dubrovinskaya Street, and was a wooden house with a shingled roof, two wooden sheds and one brick barn, valued at 100 roubles and insured for 150 roubles. The annual property tax was one rouble.  Leyba also owned a home similar to Yankel's, valued at 60 roubles and paid 85 kopecks property tax. Leyba's home was not insured. Based on these values, Yankel and Leyba were probably in the lower to middle class range, economically.
Yankel and his third wife Ginda Leya left Rossasna in 1903, according to the register of outgoing documents. Both were listed as staying current on taxes, with no criminal history. It would have been at this time that they traveled to Odessa to visit the three daughters with his second wife living there, including my great-grandmother Beila, her husband and their son, my grandpa Ben, who was about 8 years old at the time. It is unknown where Yankel and Ginda Leya went after their visit to Odessa.  My grandfather thought that they went to Jerusalem in Eretz Yisrael, but it is more likely that they went to Lida, known as "the Jerusalem of Lithuania" for its yeshivas and level of Jewish scholarship.
In 1906, Leyba's son Benyamin (b. 1873) also left Rossasna, according to the register of outgoing documents, for an unknown destination. Leyba's older son Chaim (b. 1865) owned a grocery and tobacco store, located in his home, as of 1911, and the license was renewed until 5 Jan 1913. The fee for the license renewal was one rouble, 50 kopecks.    
Leyba and his family stayed in Rossasna, as did one of Peysakh-Dovid's sons, Borukh-Itzko, and his family.  After the Russian revolution, people, either by necessity or conviction, joined the communist party.  My family was no different.  Borukh-Itzko, an accountant, was listed on a 1919 listed of board members of the "revolutionary committee of Goretsky uezd", which means in his capacity as an accountant was probably some sort of  administrator helping to institute communism in his local district.  He also was one of four members from Rossasna listed as representatives to in the regional BUND.  The BUND was founded in 1897 as the "General Jewish Labour Bund (association) in Russia and Poland".  Its objectives were to unite all Jewish workers in the Russian empire into a united socialist party in order to see Jews achieve a legal minority status (which would have guaranteed them more legal rights and protections).  Of all the Jewish political parties of the time, the BUND was the most progressive regarding gender equality, with women making up more than one-third of its members.  As the BUND supported the Russian revolution of 1905, and large numbers of its adherents fought in the Red Army during WWI, I think it is safe to say the Borukh-Itzko was a member from conviction.
Another of Peysakh-Dovid's sons, Kalman, and his family, also stayed in Rossasna.  They had occupations typical of the era.  Kalman owned a store located in his home, from which he sold tobacco, matches, candles and kerosene.  Kalman is also listed as a farmer, which means he probably leased a small plot of land and grew vegetables.  Kalman's son Yakov, owned a house and had a cow and a horse. 
In July 1915, the supplemental draft listed the sons of Peysakh-Dovid: Movsha (age 19), Kalman (age 35, married), Elya (age 33, living in Dubrowna) and Borukh-Itzko (age 28, married). In September, Simcha (age 22), the son of Chaim, was listed as missing near the town of Smorgon. It is presumed that he died at this time.
In 1926, according to property records, life in Rossasna was pretty similar to life in the late 1880s.  Kalman owned a single story wooden house with a shingled roof, and 2 wooden sheds with straw roofs.  There was a well on his property, but no electricity or sewer.  They would have burned their trash, and used an outhouse.
My family also participated in the Russian agricultural movement of the early 1900s.  A collective farm is called "kolkhoz" in Russian.  For Jews, there were many advantages to joining a kolkhoz--they would become exempt from military service, their taxes would be reduced and they could buy the land at reduced prices.  Some of the Jewish collective farms became quite successful and became models for the kibbutzim in Israel.
Chaim USVYATSKY, the son of Leyba, and his family joined a collective farm in the area named after the revolutionary leader Vladimir Lenin called Leninets.  Chaim moved there with his wife, daughter, son-in-law, their 3 young children, his cousin Yakov and Yakov's wife and 2 children.  Leninets still exists today and is located in the Zhlobin district of the Gomel region.
In the same spirit of adventurism and the potential for upward economic mobility, increased civil rights and freedoms and to escape anti-Semitism and poverty, thousands of Jews went to the autonomous Jewish region of Birobidjan in the 1920s and 1930s.  It is a very mountainous area, close to the border with China, and difficult to cultivate due to deep forests and marsh land, frequent flooding, long freezing winters and incessant swarms of mosquitoes.  So while thousands of Jews went there, relatively few stayed due to these difficult conditions and the isolation of being so far removed from population centers.  Approximately 30,000 Jews lived there at the end of WW II, but the Jewish population has been steadily decreasing, to the point where there are only about 2,000-5,000 Jews there today, which is less than 5% of the population.  My family were some of these brave people.  In 1933, Yakov decided to leave the kolkhoz of Leninets for the potentially greater rewards of Birobidjan.  He went with his wife Fira and their 4 children, his brother David and his cousin Mendel, a carpenter, and Mendel's family.  It is not known what happened to them after that--whether they stayed or whether they moved on to somewhere else.
 Many USVYATSKY family members moved to the town of Dubrowna, which is a little less than 10 miles from Rossasna.  Leyba's son Chaim and Peysakh-Dovid's son Elya moved to Dubrovna, along with their families.  Dubrowna was somewhat larger than Rossasna.  Jews comprised a little over half the population.  In additional to the usual occupations, Dubrowna was known as a textile center, and many Jews were involved in the weaving and manufacture of tallesim.
Just as in Rossasna, the USVYATSKY family in Dubrowna was involved in the Communist party, served in the Army, and decided to seek their fortunes in agriculture.  Abram USVYATSKY, a nephew of Peysakh-Dovid, was a member of the Communist party, joining in 1915.  However, he ran afoul of the law and was sent to a work camp in Siberia for two years for "printing and distributing illegal literature", probably something that was critical of the government.  He was allowed to return to Dubrowna in 1917, where he became director of the local tinsmiths' union, which had the very patriotic Communist name of "The Red Hammer Union", so apparently he reformed his views.   Abram's daughters Basha and Dora joined the Communist party in their teens.  Approximately 90% of youth joined the Communist party, partly due to indoctrination in the schools, and partly due to social pressure, and they were eligible to join at age 15.
Abram's brother Sholom-Dovid served in the Red Army and was demobilized in 1922.  Zalman, a son of Elya (another son of Peysakh-Dovid) was drafted in 1924 and Zalman's brother Mendel was drafted in 1928.  
In 1933 Zalman, his wife, daughter and mother-in-law moved to Dzhankoy, Crimea (Ukraine), in order to join an agricultural collective and farm.  Dzhankoy was a major center for Jewish agricultural farms.  It was even popularized in a song: "Hey Zhankoye", which became so popular that it was translated and recorded by, among others, the folk singer Pete Seeger as well as Broadway and movie star Theodore Bikel.  You can find a Yiddish transliteration and English translation along with a recording of the song here: 
Here is a klezmer version of the same song:
In Dubrowna my researcher was able to find out a little more about the women of the family. In general it is more difficult to find out about women because metrical (birth/marriage/death) records from the late 1800s and early 1900s have not survived.  Plus women were not as involved in business, were not drafted, did not own property, etc so their names don't show up on these kinds of records.  In census records, their maiden names were not recorded, so overall it is much more difficult to trace them.  But thanks to school records, I learned that Abram and Sholom-Dovid's sister Basya Leya moved to Vitebsk in 1923 to attend a vocational school to become a teacher for a Jewish day school.  Thanks to a list of residents who received money transfers and packages from abroad I learned that Sheyna, the wife of Peysakh-Dovid's son Elya, received a parcel from the USA.  Though it is not known who sent it to her or what was in it, the assumption is that it was someone on her side of the family.  There are also hospital death records (which are different from city registration records) revealing the deaths at young ages of Chaya, a daughter of Elya who died at the age of 17 of pneumonia in 1930, and Rivka, the wife of Sholom-Dovid, who died at the age of 36 of meningitis in 1937.
Other records indicate that Elya's daughter Nekhama married Leizer BOGORAD.  BOGORAD is an interesting surname.  It is thought to be a variant of the surname BOHORAD, which is an acronym for "ben haRav David", or "son of Rabbi David".  It is associated with Rabbi David ben Samuel ha-Levi, (1586-1667) a Ukrainian-born Halakhic authority known as the Taz, after the initial letters of Turei Zahav, his commentary on the Shulchan Aruch.  On the other hand, BOGORAD is also Russian for "God's joy", so the origin may have simply derived from that, instead.  But it's nice to speculate that the family married into that of a descendant of a famous Rabbi.
In 1929, Nekhama and her husband moved to the town of Orsha, also in the Vitebsk district about 12 miles southwest of Dubrowna.  Leizer joined the Communist party in 1936.  His occupation was that of salesperson, and later executive director, of a grocery store.  In 1937, he was arrested for "antigovernment organization", and was jailed on 15 Jul 1937.  On 22 Dec 1937, he was tried and found guilty, and on 5 Jul 1938, he was executed.  As of 1939, Nekhama and her two children were no longer in their apartment on Proletarskaya Street, however in 1940, Nekhama's brother Mendel and his wife and 2 daughters also moved to Orsha, so perhaps they moved in with them..
Property records show that the family in Dubrowna lived similarly to their siblings and cousins in Rossasna, owning one story wooden homes with either shingled or iron roofs, sometimes with a well, and sometimes with a shed.  None of the homes had electricity or sewage systems.  In the smaller towns of Belarus today, people live in much the same way.
The research I commissioned ends in 1940.  I don't yet know what happened to the family during the Holocaust, or to the family members who left the region.  Did the family members who moved to the Dzhankoy and Birobidjan survive?  Possibly, but I don't know.  Though many Jews were able to escape Dzhankoy before the Nazis overran it in 1941, many did not, and most perished in the ghetto and labor camps that were established there.  Perhaps the family members who went to Birobidjan fared better, if they succeeded in establishing themselves, and survived the later purges of the Stalinist era.  Unfortunately, it's doubtful whether few, if any of the family members survived the Holocaust.  However, I have only been able to confirm the deaths of members of one family. Since the Germans did not record the names of these people, we have only survivor testimony, or lists compiled after the war by investigative commissions to use as reference.  Due to the dearth of survivors and the haphazard way in which the lists were compiled, most of the names of the dead will never be known.  But according to the Names Database compiled by Yad Vashem, on one of these lists, the names Golda USVYATSKY (daughter of Chaim and Dvoira, and granddaughter of Leyba), her husband Boris RIVKIN, and their son Aron appear.  They were among those taken into the forests and shot.
Compiled by Judy Petersen

Created by JP February 2016

Last updated by JP January 2018

copyright © February 2016 Judy Petersen

Email:

Judy Petersen