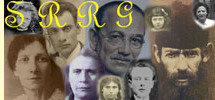 Postcard Photos of Wygnanka
View of Wygnanka
c. 1910.
These postcards are part of Tomek Wisniewski's extensive collection
They are reproduced here with his permission
This page is hosted at no cost to the public by JewishGen, Inc., a non-profit corporation. If you feel there is a benefit to you in accessing this site, your JewishGen-erosity is appreciated.
Last updated 04/10/16 by ELR
Copyright © 2006 SRRG