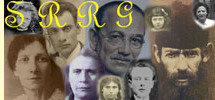 The Central Database of Shoah Victims' Names – Yad Vashem
Pages of Testimony (POT)
People whose place of residence or birth in was Wygnanka
Adolf Eugel
Aharon Tugenberg
Avraham Landau
Bila ?
Ester Libhaber
Israel Leistner
Miriam Tugenberg
Moshe Mozes Hertberg / Hertzberg
Simon Weinreb
Simon Weinreb / Veinrib
Simon Kanter
Yehoshua ?
Yitzkhak Edelstein / Edelshtein
The Names Database is a work in progress and may contain errors that will be corrected in the future. New Pages of Testimony are added regularly, please check for new additions: http://db.yadvashem.org/names/search.html?language=en
If you have lost family, friends or acquaintances in the Holocaust please submit Pages of Testimony for them:
To submit on line: http://db.yadvashem.org/forms/pot/filling/out?language=en
To download Pages of Testimony (in 12 languages): http://www.yadvashem.org/downloads#pot
The Shoah Victims' Names Recovery Project - Why Collect Names:
http://www.yadvashem.org/yv/en/remembrance/names/why_collect_names.asp
---
This page is hosted at no cost to the public by JewishGen, Inc., a non-profit corporation. If you feel there is a benefit to you in accessing this site, your JewishGen-erosity is appreciated.
Last updated 04/16/17 by ELR
Copyright © 2016 SRRG