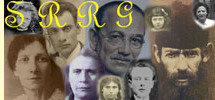 Krzywoluka 1929 Business Directory
Translated by Susana Leistner Bloch
KRZYWOŁUKA

Village and community,
Czortków Powiat (county),
Czortków  County Court  and
District Court.

717 Inhabitants

9 km from Railway Station,
Telegraph in Dźuryn,
Post Office in Bazar
Telephone in Jagielnica.

1 Greek Catholic Church.

Landowners:   Korytowska Count. Ewa (408)

Carpenters:   Sztonyk  M. 

Cooperatives:  "Postup"

Blacksmiths:  Feduś  W.

Tobacco Products:   Weintraub  D.
This page is hosted at no cost to the public by JewishGen, Inc., a non-profit corporation. If you feel there is a benefit to you in accessing this site, your JewishGen-erosity is appreciated.
Last updated 07/14/03 by ELR
Copyright © 2003 SRRG